It all starts with a HELLO!
#foodie
#streetfood
#nightlife
#photograph
#district-7
#district-5-6-10
#adventure
#saigonnightlife
#local-speciality
#motorbike
#landscape
---
My name is Kim Thoa, you can call me "Kim". I am 26 and I have graduated from Sai Gon University. My major is English for Tourism and Business. My biggest passion is traveling, so I am excited to introduce to you the interesting things about Sai Gon. Let you take a look at our itinerary. And are you ready to discover the new experience with me?
---
---
Bus
Car
Others
---
I'll pick you up at your hotel in District 1, 3, 5, 10. In case your place is in other districts, please inbox me!
---
Why me?
- Experience the feeling of sitting on the back of motorbike on the noisy roads, small alleys.
- Visit the biggest flower market and small Cambodian market in District 10, the Paradise of Shopping in District 5, and the floating market in District 7
- Enjoy street foods such as Sugar cane juice, Pan Cake, Beef wrapped in leaf, Coconut juice😀
Detail itinerary
Dear! Are you ready to explore the beauty of Sai Gon? Let me show you
1. The biggest flower market small and Cambodian market in District 10
Ho Thi Ky is considered the biggest flower market in town and is known as the Langbiang Plateau (famously located in Dalat) of HCM City. It supplies hundred kinds of flowers for the whole city. Let's take a short walk to explore this market and learn about local life in a small and special market of Cambodian. Then, enjoy a glass of sugar cane juice here.
2. Pan Cake and Beef wrapped in leaf
Let discover two specialties of Vietnamese's cuisine!!!

We can go to one of the most famous street food to enjoy Pan cake (Bánh xèo) and Beef wrapped in leaf.
3. Paradise of Shopping
We can go through the Fashion street which is the most popular shopping paradise in Sai Gon
4. Floating market
We visit the floating market in District 7, enjoy coconut juice, talk to locals about their life on the boat.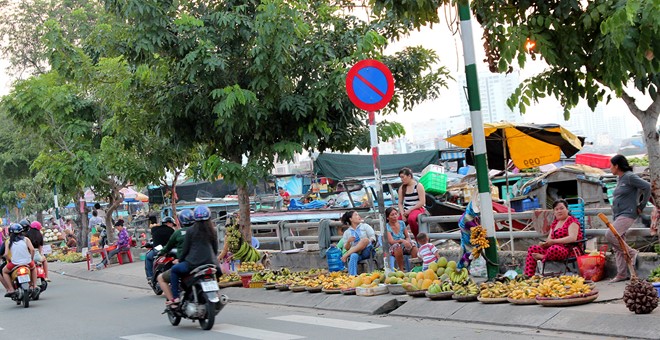 ---
5 talked about Kim Thoa
deathcult456
Très bonne guide, un sourire tous le long de l'excursion et beaucoup de rire, de blague, nous avons beaucoup apris. Avec son amie ce sont d'excellentes conductrice en scooter. Nous avons vue des coins de Saigon super comme le marché aux fleurs, les quais où nous avons mangé et découvert des spécialités. Je ne peux que vous recommandez Kim ,super.
November 2017
Caroline Ryan
This was one of my favorite parts of our visit to Saigon. We did the Saigon Sightseeing tour starting at 1:30pm. Our guides were excellent; they were friendly, funny, and very knowledgable. With Xpath the guides are also the drivers, so you are able to ask questions during the ride. The tour went through Districts 1, 3, 4, and 5. This was great for us as we had spent most of our time in District 1, and it was good to see some other parts of the city. We learned a lot about the fascinating history of Saigon, and had a lot of laughs during our tour. If you are ever in Saigon, consider this tour a must do! There are lots of motorbike tours to choose from but you definitely won't be disappointed with this one.
August 2017
Nitin
I had an amazing night tour of the city despite the traffic jam during those hours. Thoa also kept us entertained with extra anecdotes and invited us to try some of their cuisine streets where we get the chance to grill our own food. We also stop at a small restaurant to try their own version of pancake. There are many popular cuisine in Ho Chi Minh City which is simply irresistible. I will definitely be going back to Vietnam to spend more time and explore places we missed the first time and I would not hesitate to go with the xpath staff again. More power to you guys! Overall it was a great experience.
August 2017
Robyn T
A must do tour when in Saigon. Thoa was a great scooter rider and guide. I felt safe at all times. I actually almost enjoyed the scooter ride itself more than the food, it was so fun. Food was excellent. I even tried food I had never tried before, especially Vietnamese pancakes. Highly recommend!
August 2017
MR BON
It is an amazing experience after take a trip with Kim Thoa, I see that she is a young and kindly tour guide, who know a lot of story about history and cultural in Chinatown, Saigon. Thank you so much.
August 2017